Ciao Bobò!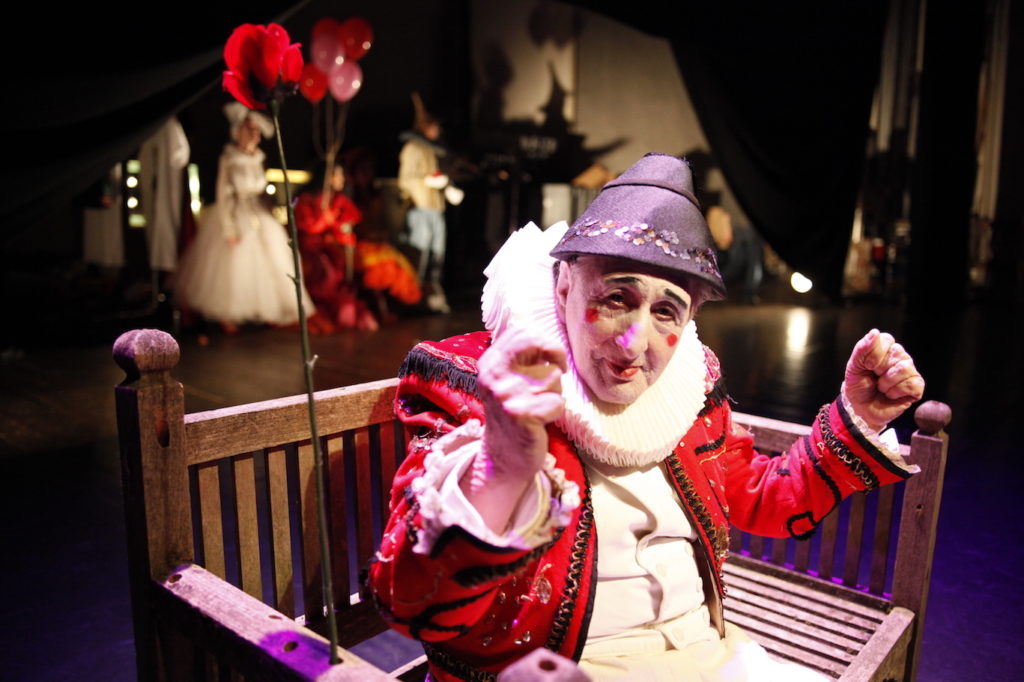 " An actor is a bird who brushes the ground with one wing while the other cleaves the skies"
Ciao Bobò! And thank you for teaching us how to love life with your ineffable gracefulness and lightness.
It's not easy to find, sometimes, the right words to tell about what happens around us with the right necessary simplicity and the proper depth. And yet, we must.
It is also difficult to find the exact balance between the need, the wish to share specific moments of transition of our lives and the will to discretion. And yet, we must.
On Friday afternoon Bobò said farewell to us. Tiptoeing. Possibly it is only by calling him with his stage name that we can tell about this uncatchable tightrope walker  - in life and on stage - in a few words.
For several reasons he was a theatre icon between two millenniums who was able to enchant the audience of the whole world with his grace, his outer space distance and his burning presence – from Paris to India, from St. Petersburg to Spain through infinite furthers stages of our Country.
His life has been a story of darkness and light. He came into an asylum when he was sixteen and there he met Pippo Delbono, during a theatre workshop Delbono was leading there. And it is right there that their deep and firm friendship started. A friendship which has been developing beyond language and beyond that curious fiction we are used to call "the reason".Bobò and Pippo. Pippo and Bobò.
Bobò started to be part of Delbono's theatre company in 1995 and from that moment on he has been accompanying Pippo and his theatre family in all meticulous, arduous, jovial and painful excursions between life and theatre; looking for an unconditioned honesty in a vortex of masks that Pippo, taking Bobò by his hand, has been able to dance since then.
From that moment on, Bobò's life has turned into twelve theatre productions, twelve continents spacing far and wide, twelve stars which has been accompanying our path. Twelve stations of a very human and stabbing "comedy" from rage to joy.
Theatre productions
Barboni  - Tramps (1997), Guerra - War (1998), Esodo - Exodus (2000), Il Silenzio - Silence (2000), Gente di Platica - Plastic People (2002), Urlo - Scream (2004), Questo Buio Feroce - This wild Darkness (2006), La Menzogna - The Lie (2008), Dopo la battaglia - After the Battle (2011), Orchidee - Orchids (2013), Vangelo - Gospel (2015), La Gioia - Joy (2018).
Opera
Cavalleria rusticana - Pietro Mascagni (2012), Don Giovanni  - W.A. Mozart (2014), Madama Butterfly - Giacomo Puccini (2014), Pagliacci  - Ruggero Leoncavallo (2018).
Bobò was the main actor and took part in most of Pippo Delbono's film productions.

The whole staff of Emilia Romagna Teatro Fondazione are filled with grief and stand by Pippo, the whole company and Bobò's family with love, tanksful for this precious friend. Together with all the ones who loved him and will always do, we want to remember him as an 82-year-old wise child among infinite joyful flowers, who is able to see, from his observation bench of Joy's set, beyond any appearances…
Ciao Bobò and thank you.