III Conference EASTAP // Call for papers
Published on 14/06/2019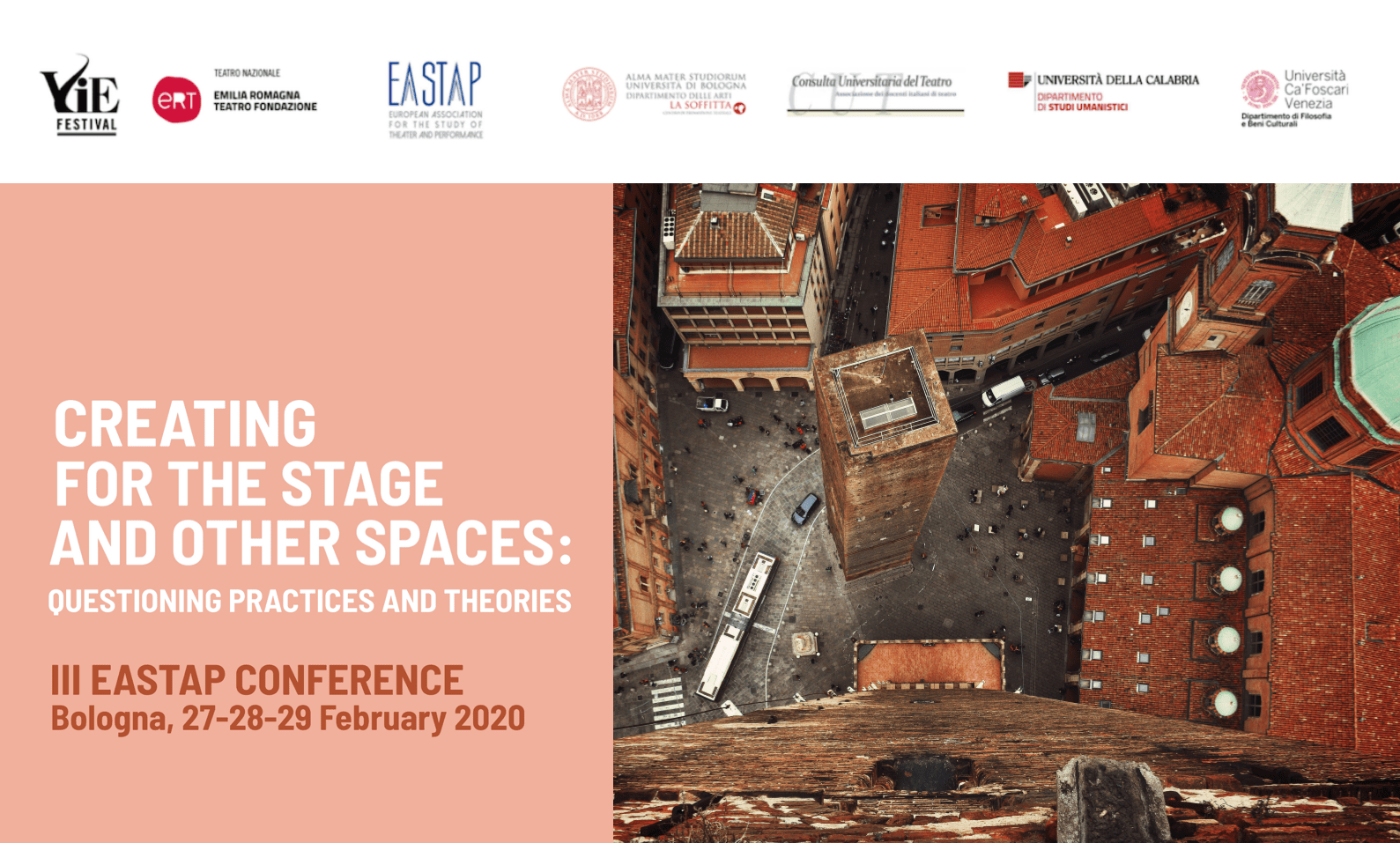 Bologna, 27-28-29 February 2020
Creating for the Stage and other Spaces: Questioning Practices and Theories

Organized by Claudio Longhi and Daniele Vianello
The twentieth century witnessed crucial changes in creation for the stage, which in extreme cases resulted in a negation of theatre itself. While trying to negotiate this legacy, two decades into the twenty-first century, further transformations and developments are taking place, requiring new theoretical languages that adopt the past as an essential matrix for examining the present and future.
The III EASTAP Conference (European Association for the Study of Theatre and Performance) intends to study this specific subject as well as helping to establish and support a dialogue between different cultures and customs in a moment, our present time, when the idea of Europe is thrown into question.
As a logical follow-up to the Paris and Lisbon editions which focused on decentralisation and shared memory(ies) of the European contemporary stage, this third EASTAP Conference will examine creating for the stage from past to present and across practice and theory.
With the express intention to embed the EASTAP Conference in the Festival VIE 2020 (international theatre festival), we will foreground dialogue on the creative process with artists.
Scientific Committee: Antonio Araujo, Christopher Balme, Maria João Brilhante,Chloe Déchery, Josette Féral, Clare Finburgh, Gerardo Guccini, Stefan Hulfeld, Lorenzo Mango, Aldo Milohnić, Elena Randi, Anneli Saro, Diana Taylor, Gabriele Vacis, Piermario Vescovo
Organizing Committee: Claudio Longhi – Daniele Vianello – Gerardo Guccini (heads), Silvia Cassanelli,Valentina Falorni, Licia Ferrari, Viviana Gardi, Stefania Lodi Rizzini, Giulia Maurigh, Rossella Mazzaglia, Debora Pietrobono, Martina Sottana, Angelo Vassalli
Secretary Office: Angelo Vassalli (head), Licia Ferrari, Yumi Suzuki
The deadline for submissions for the III EASTAP Conference in Bologna has been extended. The new date is October 4th, 2019. At the same time, the decisions will be made public by October 25th, 2019, and Conference registration can be made until November 15th, 2019. 
Download the Call with the new deadlines: IT / EN / FR