Between Lands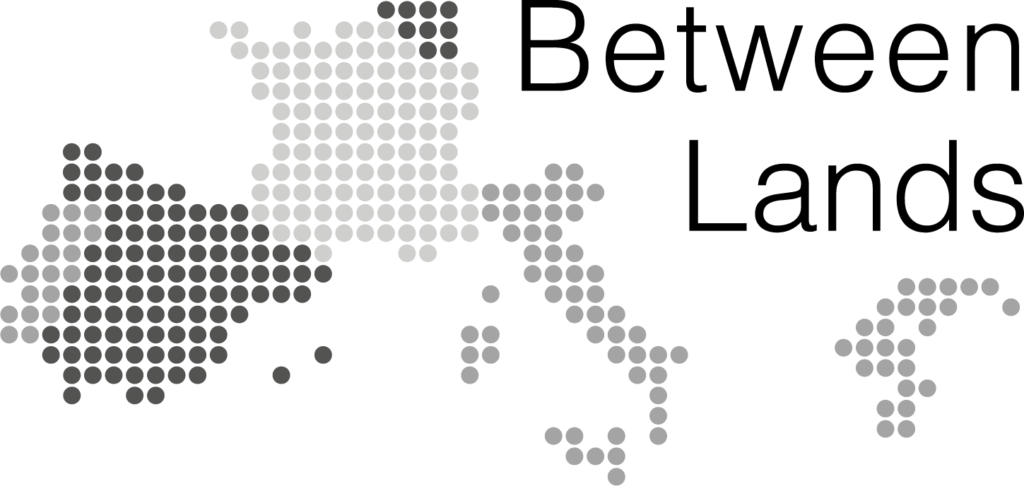 Between Lands is a network for the mobility of artists that connects Emilia Romagna Teatro to other international partners from major European cities: KVS - Brussels (BE), Teatro Calderón de Valladolid (ES), La Comédie - CDN de Reims (FR), Teatro National São João - Porto (PT), Teatre Nacional de Catalunya - Barcelona (ES), Onassis Foundation Athens (GR).
Between Lands is a project born from the need to foster a common vision of the world and of the role of cultural institutions, by promoting the idea that culture plays a prominent role in maintaining peace and democracy.
From one country to another, we undertake a "journey into the Europe of civic values", with the ambition of building international collaborations, through artistic exchanges and the sharing of spaces for reflection, discussion and transmission.
In Between Lands each theater commissions a writer.
Seven short works, written by seven authors and translated into each language of the partnership, are staged as mise en espace in a variety of forms and languages by the directors of the partner theaters under the common name of Running for Democracy.
PLAYWRIGHTS
Rachida Lamrabet (BE), Pier Lorenzo Pisano (IT), José Manuel Mora (ES), Charlotte Lagrange (FR), Mickaël de Oliveira (PT), Lena Kitsopoulou (GR), Sílvia Navarro Perramon(ES)
The writers taking part to the project are:
PIER LORENZO PISANO is the Italian writer and theatre and film director choosen by Emilia Romagna Teatro. He studied as actor at Guildhall School of Music and Drama (London). He works as actor and director for theatre and cinema. His short film Così in terra was selected for the Cannes Film Festival in 2018. His theatre work as writer has also won a number of prizes: Fratelli (Premio Hystrio 2016); Per il tuo bene (Premio Riccione-Tondelli 2017), Carbonio (Premio Riccione per il Teatro 2021)
RACHIDA LAMRABET is the author choosen by KVS- Bruxelles. Lamrabet's debut Vrouwland won her the Debuutprijs – an award for best newcomer awarded by Boek.be. Next, she wrote a collection of short stories, Een kind van god. Alongside her novels, she has gained public attention for her resolute opinions, essays and theatre texts, the latter including Belga and De handen van Fatma. Under commission from KVS and the Goethe Institute, she wrote the screenplay for Deburkanisation, which landed her in the eye of a media storm, resulting in her being dismissed from the board of directors at Unia. In response she wrote her essay Zwijg Allochtoon. Lamrabet recently won the biennial Culture Prize KU Leuven and won the Flemish Culture Prize Ultima for Arts. 
In France, La Comédie de Reims commissions CHARLOTTE LAGRANGE, a director and writer, and part of theatre company La Chair du Monde. Her work includes Désirer tant (2018) in which she portrays three generations of women dealing with their desires against the straitjacket of society. This tension between macro and micro stories often recurs in her work, in which see always seeks to interrogate political realities.
The Spanish writer JOSÉ MANUEL MORA graduated in dramatic writing and is founder and artistic director of Madrid Draft.inn, a development space for international collaboration. He also runs Spanish editions of the FRINGE festival and often writes for Peepin Tom. His interdisciplinary writing style is a hallmark of his work. José Manuel participates in Between Lands with Teatro Calderon de Valladolid. 
LENA KITSOPOULOU is an actress, writer and director from Greece, commissioned by the Onassis Foundation. Her short story collection Nichterides won the Best Debut Author Award DIAVAZO in 2007. She has made shows previously for the Onassis Foundation, Theatro Technis in Athens, in Germany and in the UK. She won the Internationaler Autorenpreis for her piece Athanasios Diakos at the Heidelberg Stückemarkt in 2013. Kitsopoulou's work typically combines contemporary form with classical Greek elements, including myths and rebetika.
Centro Dramatico São João de Porto has chosen French-Portuguese writer MICKAËL DE OLIVEIRA. Mickaël has written for theatre since 2004 and set up Coletivo 84 in 2008 as a structure in which to write and direct. In 2007 he won the Nova Dramaturgia Maria Matos prize for O que é teu entregou aos mortais. His work has been played in France, Belgium, Switzerland and Norway. He is also Artistic Director of the Encontros de Novas Dramaturgias Contemporaneas project, which aims to grow attention for contemporary Portuguese and international writing. 
SÍLVIA NAVARRO PERRAMON, playwright and stage director graduated in Sociology and in Stage Direction and Playwriting, has been commissioned by Teatre Nacional de Catalunya. She has written 94 minuts (IATI Theater NYC- Barcelona, Tantarantana, 2017), Ifigènia en Taxi (Tantarantana, 2019), Coloms, (CDN-Sala Beckett, 2021), Our house in flames (IATI Theater, NYC, 2021). She won the Ciutat d'Alcoi Playwriting Award 2018 with Un turista se suïcida and Frederic Roda de Teatre Playwriting Award 2020 with Negatius. Chosen for the VIII Laboratorio de Escritura Teatral Fundación SGAE 2020 with El último soviético (Published by Fundación SGAE) and Carme Montoriol grant by Ajuntament de Barcelona 2020 with the play Exits pursued by a bear.